Must Read
Affiliate disclosure: Please before we continue, I want you to understand something here – some of the links on this website are affiliate links that are linking to a product or service and if you visit any link to make a purchase Copytheweb will earn a commission at no additional cost for you . I hope you understand that this is how we manage to create more useful and interesting contents for you for free. Your trust is so important for Copytheweb and we are trying our best stay faithful. For this reason, if we recommend any product or service in any of our contents, it is always because we believe it will be useful to you, as we strive to always proffer solutions. And to keep my eyes open, you can always buy me a coffee ☕️ 😁😁😁

To understand how important this is, we will need to know what is SEO. It stands for Search Engine Optimization and this is the practice that involves driving of free targeted traffic or organic traffic from online pages or search engines to your lead page or website or blog, at the same time, improving your website position in a search results on a search engine. Did you understand my explanation about SEO? If the answer is yes, then let's move on with what SEO marketing tools are. They are marketing tools that are developed by SEO companies or SEO agencies to aid your digital marketing by providing you with unique seo features such as rank tracker, content explorer feature, keywords explorer feature, website audit feature and website explorer feature. These are the major features you should look out for, out of 25+ SEO tools features, when choosing the SEO software to work with. They play major roles in the growth of a site. Let's see if I can throw more light on these features to prove my points in my below explanations.
5 Things To Consider While Choosing An SEO Tool or Software
Rank Tracker - The rank Tracker SEO tool or feature works more like comparison tool, as it fetches important data from your website and compares it with the latest data that a major search engine algorithms received. This particular feature helps you monitor your search engine ranking e.g. Google ranking on different devices such as mobile devices or desktop across major countries via graphs and dashboard through comparison. It also helps you to know your SERP performance and your competitor's. Imagine you know your competitor Mr. A's SERP performance. This will make you sit up to improve better.
Content Explorer - This feature helps you search for low competition topics within your niche, where you can easily rank high. It helps you to get content ideas on any topic within your niche. You might want to ask me how to use the content explorer feature. I am suppose to allow you that info from the webpage of any of my below listed top SEO software tools. To wet the ground for you, I might just have to give you some tips, only on the surface. For bloggers, this feature is very important. You can start by visiting any of the below seo marketing tools to use the Content Explorer feature and enter a phrase or keyword related to your niche to search their database which probably has billions of webpages, after which you will get some suggestions. It might not be the same with all the SEO software tools but I think this will make it easier for you. Don't forget that content is the king but quality backlinks serve as the crown, as this SEO tools feature also helps to find you some link building prospects.
Keywords Explorer - Do you need keywords to solve your ranking difficulty, to boost your website traffic or to give you content ideas? This is definitely the feature you need. And about the content ideas, this will come in the form of questions, similar terms, phrase match, etc. You also need to know that some search engines e.g. Bing, Amazon, Google, Yahoo, Yandex, etc. that are considered big cats also contribute to the keywords data. So you see how important this feature is for you rank high and be noticed by the above search engines.
Website Explorer - This gives you the complete SEO data about a particular website e.g. which keywords does that website you searched is ranking for, the website's keywords difficulty scores, the website's SERP performance and it's estimated traffic traffic per keyword. This feature gets its data from big database of trillions of links and millions of recorded keywords.
Website Audit - This seo tool feature helps you run a thorough or well detailed SEO analysis of your entire website or blog, to help you identify and fix common seo issues or problems that are based on importance and priority. The site audit does not only evaluate your website's contents but also its technical performance to ensure maximum results. If you ask me, this should be to you a pocket tool to take anywhere, as this seo tool helps you as the website owner to get a well detailed and complete analysis into your site's performance, health and speed. This definitely will determine your site's visibility in search engines.
After reading 5 things to consider before choosing an SEO software, I believe choosing from the list below should not be a problem. Although we have tens and possibly hundreds of these seo tools out there to choose from, but choosing the best among these tools is where the difficulty lies. The good thing is that these SEO marketing tools or products are the best for any online business, as they cost less and are very effective. Although the competition is high for them, but it is to your advantage as using their tools will definitely come cheap. So, in today's post, we will be giving some reviews on 4 best SEO software tools for site maximum performance and this includes a list of the industry-leading all in one SEO tool kits for SEO experts or agencies, bloggers, content creators and advertisers:
SEMRush seo tool
SERPstat seo tool
ManGools seo tool
SERanking seo tool
And please don't get me wrong here with the above arrangement. That doesn't mean that SEMRush is the best and other tools are not up to the task. You should know that what works for you perfectly might not work for the guy on the other side of the road. This is why we came up with the list and below explains to you why you should one tool over the other, or possibly try all the tools, depending on your site's needs.
1.) SEMRush SEO Software
This is an SEO tool kit and if you ask me, I would it is one of the best
SEO software tools
in the market with over 5 million registered users. It has been in business for a very long time, as far back as 2008. I will have to talk less about this tool and leave you to discover more about this marketing tool by reading through below tips and also by visiting the company's website for more info. It gives you some days for free trial, no credit card needed, to test their products. In attempt to help its users, it offers free online SEO course and some exclusive video lessons that are prepared by their team of professionals. Imagine taking free online digital marketing courses which will cover different areas of digital marketing for SMBs, and you will cover from email marketing competitive research, and from SEO to display advertising and more.
FEATURES:
The seo tools under SEMRush are 35+ like domain comparison tool, keyword position tracking tool, website audit tool, keyword research tool, backlinks analysis tool, brand monitoring tool,social media tracker tool, advertising tool, content marketing tool, etc.
As an seo agency, there's definitely a need for you to look professional to your audience and SEMRUSH is just the perfect marketing tool for you. It offers white labelling and branding feature, which are very important for you as an agency.
Do you want to know the bounce rate and the visits to your site? This seo tool kit also has the traffic analytics API feature. With this, you can monitor the traffic on your website with ease.
2.) SERPStat SEO Software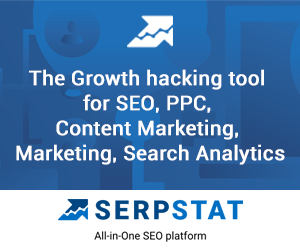 Similar to SEMRush when we are talking about popular but very different in style and features. This seo company is 5 years younger than SEMRush, as SERPStat was founded in 2013, first as a keyword research tool. Today, SERPstat is considered one of the best all-in-one seo toolkit online. According to SERPStat, this PPC, SEO and content marketing tool is best suited for webmasters and SEO professionals. It boasts of the largest regional database for keywords and website keywords suggestions for Yandex and Google search. It is an
SEO management software
which provides powerful tools for keywords research, backlinks analysis, rank tracking, competitor analysis, etc. It has more than 30 seo tools for digital marketing agencies, seo experts, website owners, etc to help you review your competitor's top performing contents, review both your backlinks and your competitor's backlinks, perform site audit, find long tail keywords that are relevant to your niche and you can rank for, etc.
FEATURES:
It has over 200 million search suggestions, 100 million relevant keywords and 180 million ads in its database. And the numbers are increasing everyday.
It also offers seo tools similar to SEMRush and other seo software such serp crawling tool, rank tracking tool, backlinks analysis tool, keywords research tool, competitor analysis tool, website audit tool and more.
It keeps you updated about your domain ranking and any change in your keywords ranking by sending you some notifications. By doing so, you can easily monitor your business performance
It also provides Chrome extensions which are available not only for Chrome but also for Firefox and Opera mini.
3.) ManGools SEO Software
This is a user-friendly seo toolkit that is trusted by professional bloggers, SMEs, affiliate marketers and seo agencies favourite, as it has simple design and very easy to use. It was founded in 2014 but it has risen to the height with those other seo software companies that existed before it. Everyone likes stress free tasks. Just like every other top seo software tools, this
seo toolkit
also has the serp analysis tool, competitor analysis tool, keywords research tool and so on. These tools have similar features. One special feature about this tool is that it can also be used to grow Instagram account. It makes your social media management and content curation very easy as it has the post Schedule, insights, analytic and engagement features. You can even track the organic position of organic keywords and get the search volume for the keywords. Now I understand why it is loved by many.
FEATURES:
Mangools keyword research tool or KWFinder helps you find relevant long-tail keywords that have very low serp difficulty. It is easier to rank high or drive free targeted traffic to your website with long-tail keywords that it is with single keywords. It is no mistake that bloggers love this marketing tool.
With a big database of related keywords of about 2.5 billion and with about 100 million from 52,000 locations all over the world, Mangools is is one good place to go to for keywords.
Do you need the best tool for local searches? With over 50 thousand locations recorded, ManGools is just the marketing tool to go to.
Will you like to check your local serp from cities, states or districts and countries? With over 52 thousand locations recorded in their database, with ease, you can use the serpchecker to analyse your local serp. This tool can also be used to analyse more seo metrics for your domain.
Now, Majestic seo tool digs the web to collect Link Intelligence data that every blogger, seo expert or seo agency needs to dominate their market. And with over 9 trillion backlinks and more than 2 trillion unique crawled URLs in the Majestic database, the ManGools Linkminer feature helps you to pull such backlinks data from Majestic seo tool.
With access to all its features, you can try this seo software for free but only for ten days.
Check
ManGools
for more offers.
4.) SERanking SEO Software
This is one of the leading seo software that is used by seo experts, seo agencies, website owners and others to analyse to spot technical errors, monitor and analyse competitor in the same niche, track your rankings and so on. It has a smooth interface that is very easy to understand and intuitive. With its one-page optimization feature and other features similar to SEMRush, AHrefs, ManGools, SERPstat and others, this
seo software
is cheap and also provides value for money too. Imagine getting access to all those data.
FEATURES:
It is very important that you keep an eye on your keyword performance on Bing, Yahoo, Google, YouTube and Yandex. SERanking is one of the best seo software with such rank tracking tool that can accurately give you the data you need to know your website ranking position for a targeted keyword.
It offers a powerful keyword research tool which can help you discover new keywords ideas for your niche and also give you a list of websites or possible competitors that are ranking high on your targeted keyword or running ads on that targeted keyword. This tool can also be used to analyze core keywords parameters and more.
SE Ranking has an extensive database that you can use to get organic results, serp history, keyword suggestions and ads history of a particular keyword.
It gives you access to insights about your competitor website, as this performs an indept analysis to share with you what keywords your competitors are targeting.
What caught my attention is the on-page seo checker that can help you to optimise your website contents only around the necessary ranking factors. This feature is similar to the website audit feature but it is quite different an seo feature. Unlike the site audit tool that analyses the entire website, the On-page seo tool analyses only one page of the website to provide you with complete details. Website audit works with technical seo factors, while the tool works with On-page seo ranking factors. This analyses the page site content, URL, header tag, page description, usability, page experience, the internal and external links to your page, media files and more. Where the site audit tool cannot give you complete details on the above factors, the On-page seo tool will do it with ease.
It can be used as a social media marketing tool which can serve as a social media management solution for your online business. You can connect your Facebook and Twitter accounts to this tool to enable you use their auto-post updates feature.
Do you need some SEO strategy to work with for faster results? SERanking can provide you with marketing plan that comes a comprehensive and easy to understand to-do list of all the delean seo tasks you need to complete to attain the seo results you desire.
With incredible value, this seo tool is scalable and flexible and also has high quality data with seamless project overflows.
The white-label feature makes it possible for seo companies or seo agencies to handle seo and marketing for clients.
Conclusion: The above best seo software tools will definitely change the way you look at and perform SEO. AHRefs is supposed to be listed among. Even though it is one of the best seo tools on the internet, I will still need to review and confirm some features before sharing with you. After using any of the tools, please don't forget to share your experience with use by using the comment box below. Please read and share with friends and family.